Let Us Make Writing a Psychology Literature Review Easier for You
Our service experts know all the ins & outs of psychology literature review and are ready to share them with you.
Guarantees we provide for writing a psychology literature review
Ordering a psychology literature review from us, you are assured of getting exactly what you need.
Plagiarism-free
Every paper we produce is assured of 100% originality & flawless Turnitin-pass.
Verified PhD experts
All experts are background-checked & have higher degrees in over 50 fields.
Adherence to instructions
We do everything strictly following your instructions, including format, style, etc.
Fast delivery
We deliver papers on time or earlier, even if there are the tightest deadlines.
Confidentiality
We assure complete privacy of your data – no information will be disclosed.
Money-back guarantee
If you are not satisfied with the writing quality, we will 100% refund your money.
How we work on writing a literature review in psychology
We approach every psychology literature review comprehensively. We can work with your sources or search for new ones.
Searching relevant sources
We start your psychology literature review by clearly defining a topic and identifying relevant keywords & terms to use while searching via credible databases.
Sources assessment
After picking appropriate sources, we carefully evaluate them for credibility and the author's qualifications to select the most relevant ones on your topic.
Identifying themes and gaps
Then, we critically analyze the sources for themes, trends, debates, key publications & current gaps, as well as look for interconnections between chosen sources.
Outlining the structure
Next, the writing expert makes an outline using the needed approach (chronological, methodological, theoretical, or thematic) and perform analysis & interpretation.
Writing from scratch
When the materials are ready, we will write a paper from scratch. We will summarize key findings & explain how the study addresses gaps, contributing to the field.
Customers about our psychology literature review help
Honest feedback is our best reward for all literature reviews in psychology we've made.
Fantastic job! Writer was so attentive to detail, and all my instructions were implemented.
Perfect review and great service. Will be glad to work with this writer again.
So happy with the review I got and will probably be back.
I'm glad I wasn't wrong in choosing your service!!!
The work met my expectations. Excellent choice of sources and formatted as I wanted. Thank you!
Entirely satisfied with my psychology literature review, nothing to say else
Thank you so much
Who can write literature reviews in psychology for you
There are 368 certified experts from 50+ subjects you can trust writing a literature review in psychology.
Hire a writer
What Is a Literature Review in Psychology?
Writing a psychology literature review can be a standalone assignment or a part of research work. In any case, it's an essential stage of scholarly investigation, helping gain comprehensive knowledge on the topic. A lit review itself is a summary of sources with in-depth analysis. It also provides a great way to organize and think critically about the data. You look at known theories from different angles. Ideas become clearer, and facts become more obvious. The lit review helps you form your hypotheses and develop a methodology within research. Through a good paper, theoretical lines are set.
Finding Psychology Literature Review Topics for a Successful Project
Half of the success of your project depends on the choice of topic. This is where all the work begins. Let's dive in. Psychology literature review topics can vary widely. They serve different purposes and suit various research works. This type of work is often required to complete a dissertation or a thesis. But there are other options. A lit review can be a separate paper for publication. To choose the right topic for the project, you need to find it first. There are some simple steps to do this.
Decide on your interests in a particular area of study.
Look at current research in the field.
Check out a list of sources you can trust.
You will probably find an area that has only some of the answers. Congratulations, it could be your perfect topic.
Using Psychology Literature Review Example for Help
Let's be honest. Writing a paper like this from scratch for the first time without help is silly. You may spend a lot of time just studying the requirements. Let's say you do them all, but where is the guarantee that you have interpreted everything correctly? That's why using a literature review psychology example is the best thing you can do. They make your job easier and give you confidence. You might ask, where do you find such examples? Well, the answer is on our service website. Working with them, you get a lot of advantages.
Our samples can serve as a visual example for you. That's the first thing. Thanks to them, you will better understand the structure of the work. This is the second. Third, you will increase your general knowledge of the topic just by looking at the thematic works. For instance, we have a scientific literature review example you can also explore.
To avoid being unsubstantiated, please familiarize yourself with this excellent psychology literature review example. It has everything you need. Without exaggeration, this is an exceptional reference. Why torture yourself with doubts when you can use ready-made examples of writing? Right?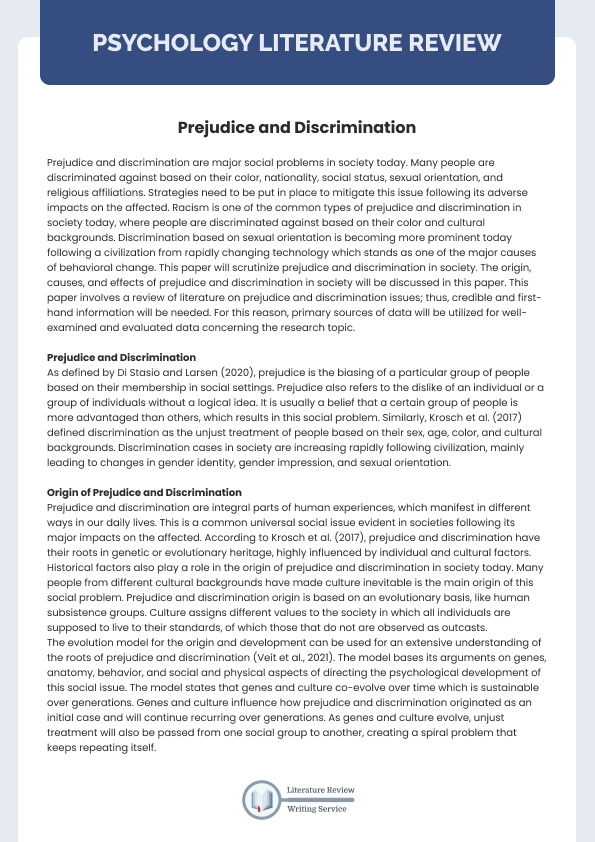 How to Write a Literature Review Psychology?
A lit analysis involves a multi-stage process. In that case, the best solution is to follow a standard algorithm. And here's how to write a literature review psychology. Generally, the work plan looks like this.
Select a topic
Choose a study area to cover and narrow it down to 1-2 themes.
Determine the scope and clearly state a research question.
Formulate a topic that will be clear and specific.
Search for sources
Go through credible databases.
Pick up the sources you would like to work with.
Check the works' credibility & relevance.
Choose the most recent and actual ones.
Evaluate and analyze
Pick up methods and criteria for analysis.
Choose an approach.
Critically assess the sources.
Identify the context and key themes that are relevant to your research.
Extract the data.
Outline a structure
Introduction: Give the study background and explain the goals and importance of your research.
Main body: Sort the references by the chosen approach.
Conclusion: Summarize your findings.
Writing
Using an outline, write the paper.
Follow the logic and order of your thoughts.
Citation
Create a list of references adhering to the needed formatting requirements.
Check references for accuracy and originality of citations.
Proofreading & editing
Give your writing piece enough time for proofreading.
Engage someone more experienced if needed.
Do a final check for any mistakes.
In any case, you can always seek professional literature review writing help at any of these stages. Conducting a lit overview is not a walk in the park. It's especially true if it's a piece of a study project where a lit analysis is on a research basis.
Simplifying the Task With Psychology Literature Review Writing Service
Studying examples and guides on how to write a literature review is helpful. But what about time? Often, it is not a lack of knowledge but a lack of time that hinders students. But there are no problems without solutions. And we offer this solution to you. Psychology literature review writing service helps you finish your work on time.
We can describe the advantages for a long time, but let's stop at the facts. Our service has been on the market for many years. Each of our writers has at least 5 years of experience. We know perfectly what is a literature review in psychology and cope with papers of any complexity and scope. The average rating of our writing services from clients is 4,8. More than 12 thousand students trust us.
Get Literature Review Psychology From Professional Writers
Let's dwell on our service writers in more detail. You want your paper to be written by the best of the best, right? We want that, too. That is why we have only the best experts writing a literature review in psychology. Their experience is unquestionable, and their achievements are easy to verify. The experience of our service writers consists of two crucial components. It is an academic degree and writing skills. All the authors of our service are specialists in their fields.
How do we assign the best service expert for you? It's a piece of cake. You do not need to take care of anything. Once you place your order on our service website, the magic begins. We define the assignment and the deadline. After that, we select the most competent writing pro. Each author receives only the task with which we can cope best. A literature review psychology will be written by an expert skilled in your topic. The service authors constantly follow the latest research. The sources they use are 100% reliable. By choosing our writing service, you guarantee yourself peace of mind.
Contact our service right now, get the perfect writing piece, and pass your project with flying colors!